Low cost Christmas gifts ideas

Featured on this page:
GREEN GIFTS IDEAS! ReCycle


Snowman Soup:
EASY Snowman Soup Recipe:
1 packet of premade Hot Chocolate mix
2-3 Hershey's Chocolate Kisses
A dozen Mini-marshmallows
A small candy cane

Place all contents in zippered baggie, make a cute label, attach to baggie. OR: Place all baggie contents in a Christmas Mug and decorate with tull or cellophane wrap.
Click here for 1 Snowman Poem, click here for another.


TOP



Homemade Hot Chocolate Mix (Dry)
Ingredients:
4 Cups Cocoa
10 Cups Instant Nonfat Dry Milk,
2 Cups sugar
1/2 teaspoon salt

Combine ingredients.

Yield approximately: 64 cups of hot chocolate
Instructions: Use 1/4 to 1/3 cup of mix to 1 cup hot water.

Optional Additions:
Dried Mini Marshmallows
Ground cinnamon, nutmeg, cloves


Christmas CD Mix that you burn yourself:
You have to use clean MP3's that do not have the security
features like what is purchased from Itunes.


TOP



Homemade Hand Lotion:
http://www.stretcher.com/stories/980108b.cfm

Candy in a Christmas Mug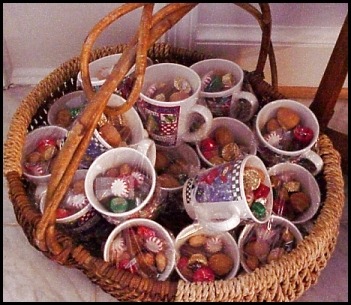 TOP



Homemade Bath Salts:
What a lovely, easy and economical gift this is!
allfreecrafts.com/giftinajar/bath-salts.shtml
betterbudgeting.com/articles/frugalgifts/bathsalt.htm
stretcher.com/stories/01/010806a.cfm


TOP



Print mini Inspirational booklets:
Compile a document on your PC of all of your favorite inspirational sayings. To get an idea of the size, fold a piece of 8 x 11 1/2 printer paper in half, lengthwise and then fold into thirds. You should have 6 sections. Line up your text on a page in that manner. Use pretty fonts. Print out sheets front and back, cut each page into 6's, compile and use a hole punch and ties together with a pretty ribbon. Hand sign the booklet to your friends.


TOP




Green Gift Ideas!
Recycle and make cute gifts
at the same time!




Homemade Cheese Spreader


Go to a Thrift Store like Salvation Army... (really)

Raid their silverware bin for spoons. It does not have to be matching. If you can find real silver for cheap, BONUS! (Stainless works, too.)

If silver, polish first.

Get a HAMMER, a hard, flat surface and a towel.

Put spoon on hard surface, cover with towel

Gently beat the round part of the spoon. Flatten it.

You've just created a really nice silver cheese spreader!

Tie a red ribbon around the neck of spoon.

Give as it is with a little note attached or make some homemade cheese spread to go with spoon!

Viola! A really nice, useful, but completely inexpensive gift that will last forever! (My Dad taught me this when I was a teenager.)





TOP



Homemade Pot Pourri:
In 2000, I gave homemade pot pourri to my guests as a parting gift.
In my mixture: Home grown dried Lemon Balm (grows like a weed, smells like heaven!) dried apple, orange and lemon slices, cinnamon sticks, pine cones, whole cloves (a bag I bought at the craft store.)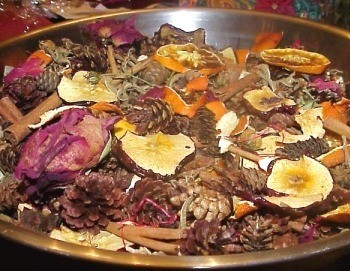 Wrapped in white, green and red tulle and used
a pipe cleaner to keep it closed.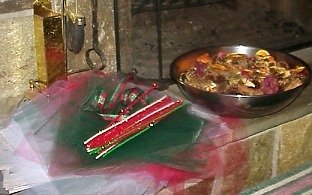 Photos from my 2000 Exchange



Light Bulb Christmas Ornaments
***What to do with old lightbulbs ? Don't throw them away, make Christmas ornaments out of them! Tie a florist wire around the metal screw in part for hanger, make a loop. Secure end with a drop of hot glue. Then get out your Elmers or crafters glue and colorful glitter. Be creative! (This would be a great project for children.)


TOP


Tin Can Candle Votives
*** Don't throw your tin cans in the recycler!
Use the cans for candles and votives! Use all sizes of cans for different uses... tuna cans, soup cans... you can spray paint the cans or brush pain them. Use, beads, glitter or if you're really artistic paint holiday designs on them. Also, the tin cans can easily be punched with an sharp tool like an ice pick (Be careful! Wear Heavy Duty gloves) then the light from the flame will shine through. Easy, beautiful and CHEAP!


TOP



Easy Winter Birder Feeder:
Take pine cones that you gathered from your yard. Stick a florist wire around the top and make a loop to hang on tree. Spread peanut butter on the cone, then roll the cones in bird seed, make a wonderful winter treat for your feathered friends.


TOP



Homemade Gift Tags:

Do you have boxes full of old Christmas cards laying around? Get out your pinking shears or Creative Memories scissors and start cutting in to easy shapes, like stars, hearts, circles, and rectangles. Package in cello, in groups of 8 or 10. Tie with a pretty ribbon.


TOP




Here's a quick list of ideas:

Homemade Christmas Ornaments commemorating your party with date.

Banana Nut Bread in mini loaves

Homemade candies

Gourmet Spreading spoon

Homemade candles

Mini Christmas silk flower arrangement, in a clay pot

Chocolate Dipped Pretzels

Caramel Corn balls

Homemade Fudge

Home Made Chex Mix